October 20, 2022


Kirk Brown

Andrew Knowles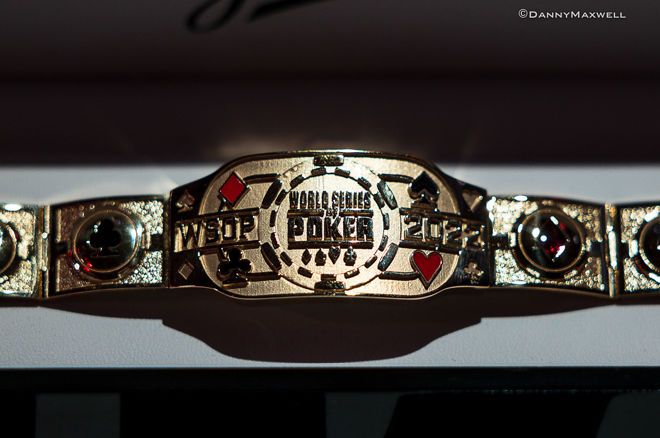 The WSOP.com Online Bracelet series wrapped up the last of its 33 events and crowned three new WSOP winners.
Qinghai "011POKERDR" Pan , Justin "Jsaliba2" Saliba , and Hung "nowitsover" Truong all took home WSOP gold bracelets in the final events of the series. Read below to see how they won.
Qinghai "011POKERDR" Pan Wins First Bracelet in Event 31: $600 NLH Deep Freeze ($36,148)
On Monday, the 2022 World Series of Poker Online continued with Event 31: $600 NLH Deep Freeze, a tournament that drew 366 players. This field resulted in a $197,640 prize pool, and after a little over 8 hours of play, it was Pan who scored the victory to capture a $36,148 top prize and his first gold bracelet.
Pan, who defeated Matthew "mendey" Mendez in heads-up play, is a California native with over $450,000 in live tournament earnings according to The Hendon Mob. That includes a career-best of $62,079 for sixth in the 2019 WSOP $10,000 seven Card Stud Hi-Lo 8 or Better Championship. Hendon Mob also shows that Pan is quite the online crusher as well, as he scored third place in the 2021 WSOP Online $ 7,777 No Limit Hold'em – Lucky 7's High Roller for a whopping $183,754. He can now proudly add a brand-new gold bracelet to his extensive list of achievements.
Final Table Results
PlaceNameNationalityPayout1Qinghai "011POKERDR" PanUnited States$36,1482Matthew "mendey" MendezUnited States$26,2073Paul "rungood27" ScaturroUnited States$18,9934Kevin "GoneBananas" GarosshenUnited States$13,8745Fred "staeks" LiUnited States$10,2176Shawn "ChickenGhost" BuchananCanada$7,5107Matthew "gitgot" VolosovichUnited States$5,5538Benjamin "chaipoker" AbrahamsUnited States$4,130
Final Table Action
Even though this was a freezeout tournament, it took nearly eight hours of play to get down to a final table and things picked up pretty quickly with Benjamin "chaipoker" Abrahams being the first casualty as he exited in eighth place. Soon after Matthew "gitgot" Volosovich would bust in seventh when Mendez flopped a flush on him and he was unable to improve.
2019 WSOP $ 800 No Limit Hold'em champ Shawn "ChickenGhost" Buchanan would exit in sixth when his two-pair was crushed on the river by Paul "rungood27" Scaturro's straight.Fred "staeks" Li was soon to follow in fifth as his ace-eight couldnt best Pan's pocket nines.
Kevin "GoneBananas" Garosshen was next to go in fourth and Scaturro was eliminated in third when Pan's queen-deuce crushed his ace-nine by flopping two-pair and rivering a full house for good measure.
When heads-up play started, Pan was a 4-1 favorite over Mendez and the exchange was one for the record books as it lasted only one hand before the two got it all in the middle. Unfortunately for Mendez, he was unable to find a double and was eliminated in second place.
Justin "Jsaliba2" Saliba Wins Second Bracelet in Event #32: $10,000 NLH Super High Roller Roller ($152,752)
On Monday, the 2022 World Series of Poker Online continued with Event #32: $10,000 NLH Super High Roller, a tournament that drew 41 players who rebought 11 times. The 52-entry field resulted in a $499,276 prize pool, and after over nine hours of play, it was Justin "Jsaliba2" Saliba who scored the victory to capture a $152,752 top prize and his second gold bracelet.
Saliba, who defeated Jonathan "Art.Vandelay" Dokler in heads-up play, is a Vegas local with just over $1.2 million in live tournament earnings according to The Hendon Mob. Saliba is an online regular who's last big score was when he won a bracelet and $253,800 in the 2019 WSOP Online $5,300 NLH High Roller. He also placed second in this year's WSOP Circuit Online $2,000 No Limit Hold'em – Super High Roller 6-Max.
Final Table Results
PlacePlayerNationalityPrize1Justin "Jsaliba2" SalibaUnited States$154,7522Jonathan "Art.Vandelay" DoklerUnited States$107,5283Matthew "booyastink" WantmanUnited States$72,3844Pete "PeteChen" ChenTaiwan$49,9205Dan "BackDoorDan" SmithUnited States$37,4406Brian "JR_Smith" HastingsUnited States$29,9527Yong Keun "LuckySpewy1" KwonUnited States$24,9608Patrick "Just4Lolz" KennedyUnited Kingdom$22,464
Final Table Action
As there were only eight places paid, the money and final table bubble busted after just under six hours of play when Aram "whatitdew" Oganyan shoved his pocket kings on the flop and was called by Brian "JR_Smith" Hastings and his eight-ten off-suit. Hastings was open-ended on the flop and hit his straight on the river to eliminate Oganyan and put the players in the money. It should be noted that the final table was made up of all former bracelet winners except for Matthew "booyastink" Wantman.
The first casualty on the final table was Patrick "Just4Lolz" Kennedy when he shoved his ace-nine into Pete "PeteChen" Chen's superior ace-jack. Kennedy could not improve and was therefore eliminated in eighth.
Out in seventh was Yong Keun "LuckySpewy1" Kwon when he pushed the rest of his short stack in with queen-jack but soon found he was up against Saliba with pocket kings. The board put out both a queen and a jack for him, but he was counterfeited as the board was paired on the turn with fours.
Six-time WSOP bracelet winner Hastings was sent to the rail in sixth when he ran his ace-jack into Wantman's ace-king and failed to get there.
Next to go was Dan "BackDoorDan" Smith when he got it all in with ace-ten against Dokler's pocket jacks and was unable to improve so he was out in fifth.
Chen was Dokler's next victim as he got it in with ace-seven but quickly realized he was in bad shape against Dokler's ace-king. The board provided no help for Chen and he was eliminated in fourth.
Three-handed play lasted over an hour before Wantman put his stack in with king-ten against Saliba's ace-five. A five appeared on the board and that was all she wrote for Wantman as he was sent to the rail in third.
Heads-up play lasted only a few hands until Saliba moved all in on the river with pocket tens on an eight-high board and Dokler tank-called with a pair of fives but was no good and was sent out as the runner-up.
Hung "nowitsover" Truong Takes Down Final Event of The Series ($52,675)
It took just under 10 hours for Truong to overcome a 381-player field and claim his first World Series of Poker gold bracelet in Online Event #33: $500 No-Limit Hold'em Fall Finale. Truong defeated Christopher "Basile28" Basile heads-up and took home $52,675 for his efforts.
The final event of the series attracted 381 players who rebought 259 times to generate a $288,000 prize pool.
According to The Hendon Mob, Truong is a New Jersey native who has been recording cashes since 2007. Today's victory marks a career-high online score for Truong, who will add to his $246,125 in previous tournament earnings.
Many notables joined the final event of the series and those who managed to find a cash included poker YouTuber Ryan "Joeyisamush" Depaulo (66st – $1,440), Jake "Malibu712" Daniels (40th – $1,497), and four-time bracelet winner Jeff "NedrudRelyt" Madsen (18th – $2,016).
Final Table Results
PlacePlayerCountryPrize (USD)1Hung "nowitsover" TruongUnited States$52,6752Christopher "Basile28" BasileUnited States$38,1883Michael "BobMerwald" BohmerwaldUnited States$27,6764Brian "BaulHardigan" GatesUnited States$20,2175Matt "berkey11_S4Y" BerkeyUnited States$14,8896Austin "Shady_1" RobertsUnited States$10,9447Michael "Bballlind10" LindUnited States$8,0928Anthony "heheh" ZinnoUnited States$6,019
Final Table Action
The eight-handed final table got off to a hot start when Anthony "heheh" Zinno moved in with pocket kings but ran into the aces for Matt "berkey11_S4Y" Berkey. The board didn't improve Zinno and he was eliminated in eighth place.
A few hands later, Michael "Bballlind10" Lind picked up king-jack on a jack-high board and moved all in. He was instantly called by Basile with pocket aces, and when the board ran out no extra help for Lind, he was sent to the rail in seventh place.
A short while later, Basile shoved with a bigger stack holding king-nine and was called by Austin "Shady_1" Roberts with pocket queens. The board ran out to give Basile a king-high flush and Roberts was eliminated in sixth place.
After losing a few big pots Berkey became short and moved all in with ace-nine but ran into the pocket queens for Truong. The board didn't improve Berkey and he exited in fifth place.
Four-handed play only lasted a few minutes before Brian "BaulHardigan" Gates shoved in the small blind with ace-queen but ran into a monster when Basile snap-called with pocket aces. The board flopped a flush draw for Gates but when the turn and river bricked out, Gates was eliminated in fourth place.
Michael "BobMerwald" Bohmerwald was the next casualty when he flopped top pair with queen-jack but was up against a flush draw for Truong with king-nine of spades. When the turn hit the eight of spades it was the end of the road for Bohmerwald as he exited in third place.
Heads-up play started with Truong having an over 3-1 chip lead on Basile and it didn't take long for all the chips to hit the middle. Basile picked up ace-four and moved all in but was snap-called by Truong who held ace-jack. The flop fanned out a jack and the rest of the board was no help for Basile as he was forced to settle with runner-up position. Truong took down the final event of the series and won his first WSOP bracelet with the victory.
DateTournamentPlayersRe-EntriesTotal EntriesPrize PoolWinnerPrizeSept. 10Event #1: $400 NLK Kick-Off474381855$271,800Oli "try2trick" Hasson$58,491Sept. 11Event #2: $500 Monster Stack508214722$324,900Benjamin "rvrruner" Garrick$64,590Sept. 11Event #3: $3,200 High Roller742599$376,960Drew "dudeguydrew" O'Connell$96,087Sept. 13Event #4: $1,000 PLO 6-Max129144273$275,700Soheb "TommyConway6" Porbandarwala$57,125Sept. 15Event #5: $500 NLH Turbo Deepstack348167515$231,750Christopher "ccast93" Castiglia$44,704Sept. 17Event #6: $800 NLH Ultra Deepstack264119383$282,960Vito "thesuitbig29" Distefano$57,355Sept. 18Event #7: $365 NLH571 571$299,722Jeremy "Chipchecka" Ausmus$51,807Sept. 18Event #8: $1,000 NLH 6-Max238146384$345,600Jesse "Dangerous22" Lonis$73,370Sept. 20Event #9: $600 NLH Deepstack Championship380135515$278,100Timothy "LosingEquity" Faro$50,864Sept. 22Event #10: $2,500 NLH Freezeout153 153$237,563William "SlaweelRyam" Romaine$79,753Sept. 24Event #11: $400 PLO 6-Max172193365$131,400Tanner "bamatide88" Bibat$29,459Sept. 25Event #12: $400 NLH Ultra Deepstack538225763$274,680Jesse "patient0" Yaginuma$47,520Sept. 25Event #13: $1,000 NLH231134365$328,500Nathan "bckdrboogie" Zimnik$69,740Sept. 28Event #14: $500 NLH 6-Max196202561$252,450Jeremiah "freestylerr" Williams$48,698Sept. 29Event #15: $365 NLH Turbo Deepstack463238701$229,928Tanner "Bamatide88" Bibat$42,053Oct. 1Event #16: $500 NLH Deepstack386169555$249,750Connor "beefstew93" Stuewe$45,679Oct. 2Event #17: $777 NLH Lucky 7s130217347$394,800Mike "BrockLesnar" Holtz$76,157Oct. 2Event #18: $1,000 NLH Turbo Deepstack90254344$309,600Michael "itwasthator0" Gagliano$62,755Oct. 4Event #19: $1,500 NLH213119332$456,500Jordyn "ThLstCrdBndr" Miller$96,914Oct. 6Event #20: $500 NLH Turbo336143449$215,550Mark ".TheGambler." Dibello$41,579Oct. 8Event #21: $600 NLH 6-Max303145448$241,920Maxx "Mc4chess" Coleman$46,666Oct. 9Event #22: $500 Big 500182280462$333,900Matthew "peepeepoopoo" Paoletti$61,070Oct. 9Event #23: $1,500 NLH Freezeout244 244$335,500Michael "stiltwalk" Mercaldo$68,005Oct. 11Event #24: $7,777 Lucky 7s High Roller721688$649,176Jared "jstrizza" Strauss$181,769Oct. 12Event #25: $2,000 NLH 8-Max16266228$421,800Evan "ballz222" Sandberg$94,567Oct. 13Event #26: $3,200 NLH High Roller 6-Max11138149$452,960Christopher "Pay_Son" Staats$111,609Oct. 15Event #28: $365 NLH Monster Stack536254790$259,120Desmond "Deezz_Nutzz" Haynes$44,827Oct. 16Event #29: $1,000 NLH Online Championship318224542$487,800Frank "thewholefunk" Funaro$94,096Oct. 16Event #30: $5,300 NLH High Roller671885$425,000Brian "smeagol" Kim$119,000Oct. 18Event #31: $600 Deep Freeze3660366$197,640Qinghai "011POKERDR" Pan$36,148Oct. 19Event #32: $10,300 NLH Super High Roller411152$499,276Justin "Jsaliba2" Saliba$154,752Oct. 19Event #33: $500 NLH Fall Finale381259640$288,000Hung "nowitsover" Truong$52,675
Thanks for following the PokerNews team throughout the WSOP.com Online Bracelet Series. Be sure to tune in again for live updates from all of your favorite events around the world.

Kirk Brown

Andrew Knowles